Hi guys,
I and many other users noticed that some information or pictures are reposted all over the forum or in the same topic. While administrator and moderators don't get mad at users for reposting photos/information, it still might be a bit annoying to some members who really keep up with everything that has been posted in this forum and are always on the lookout for new information on their favorite maiko/geiko/topic.
Some threads are really popular and as a result are very, very long (some over 20 pages!) and we understand that users do not go over every single page to see if a picture/information was posted or not. But why not use the search tool of the forum? You might even find some information you have always wanted to know why quicker than you think
I really encourage you all to use this tool more often, it will help to keep the forum cleaner and easier to read through.
So this is how you use the tool:
Step 1

Step 2
After you typed in all your keywords and selected the other options you want, click on the search button at the bottom of the search page.
I only showed here the easiest way to use the search tool, there are many more options you can select, just play a bit around to see what fits your request the best
And this is what I get :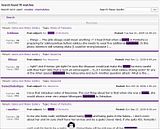 If you have some more questions, feel free to pm me or ask here