Oh hello there!
Finally, finally I got myself a good Japanese project doll. I've been wanting a larger gofun doll for some time, and this beautiful lovely got listed. She is/wasn't in the best condition. Most of one eyelid missing, lots of holes in her kimono, no base, etc, etc.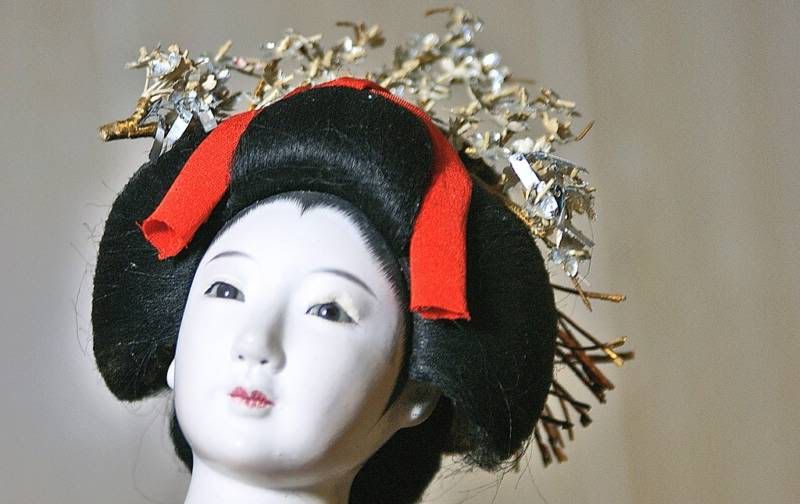 Inadvertently, I grabbed this doll up, not realizing how much she looked like one of my 'dream dolls.'
This doll:
http://www.flickr.com/photos/cindysdoll ...

[email protected]
Turns out, they're the same mold, which chances are, the same artist. Yes, she's actually a molded head, which is really quite surprising to me! You'll see how I figured this out later.
I could've really left her clothing on and not fussed with everything, as nothing is too terribly bad except for her under skirt. Usually, I don't have to take a doll apart to replace that, as they're usually nothing more than a hemmed piece of cloth pinned to the doll's knees.
But what's this? It's actually sewn to a piece of muslin. Alright, now I've got to start pulling things apart because I'm actually quite curious.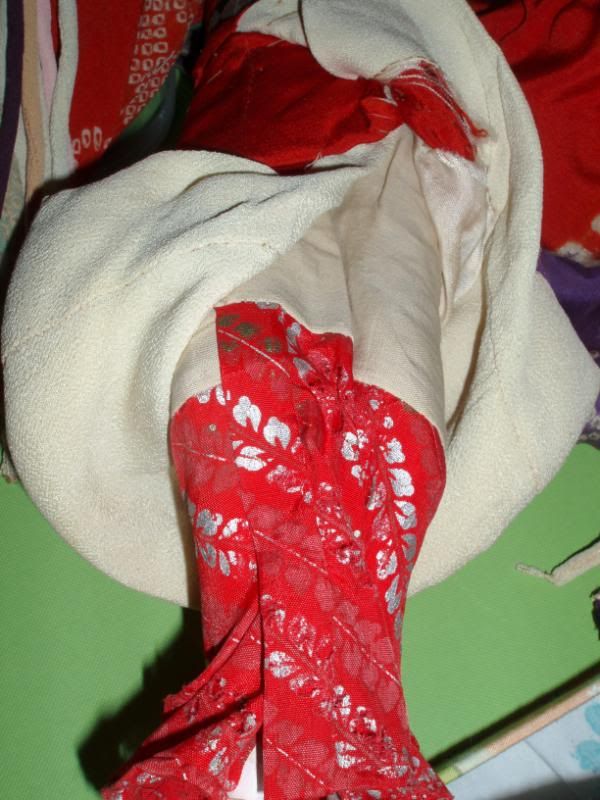 Now comes the part I hate. For what ever reason, dollmakers decided to PIN things into place rather than sew them on. I really cannot understand the logic of this, as Japan, with a climate not exactly dry, rather humid in fact, things like metal rust, and unlacquered wood tends to warp. This is exactly what happened here. It was such, excuse mon Francais, hell to remove these pins and I had to do so very delicately or risk ripping the delicate silks. The rusting metal also had the horrible consequence of eating a lot of the fabric up. The back of her kimono will need some major restructuring and repair to strengthen it, so that'll be fun. I got the obi off with not too much drama, thankfully. Thin silk kinsha, like the dolls kimono gives a little bit, but brocade is far less forgiving. I've actually have had doll obi just shred when I've pulled the pins free.
I use tweezers for most of my work. Gripping the pin head with the tweezers, I apply pressure up with the tweezers while my other hand applies local pressure downward to keep the fabric from ripping. This is incredibly important, as if you do not apply the downward pressure on the fabric, it can, and it will usually rip, and that's just a mess. When dealing with obi pins, generally you have to lift part of the brocade and wiggle it up a bit. Do not try to pull the pin completely with the obi, you chance ripping it our and damaging the obi. Instead just try to get the pin up a few millimeters so you can get your tweezers in there.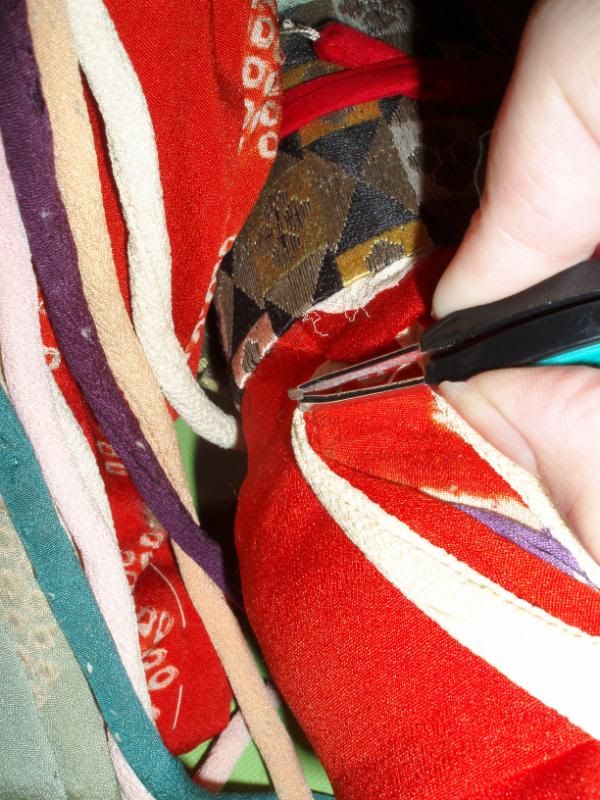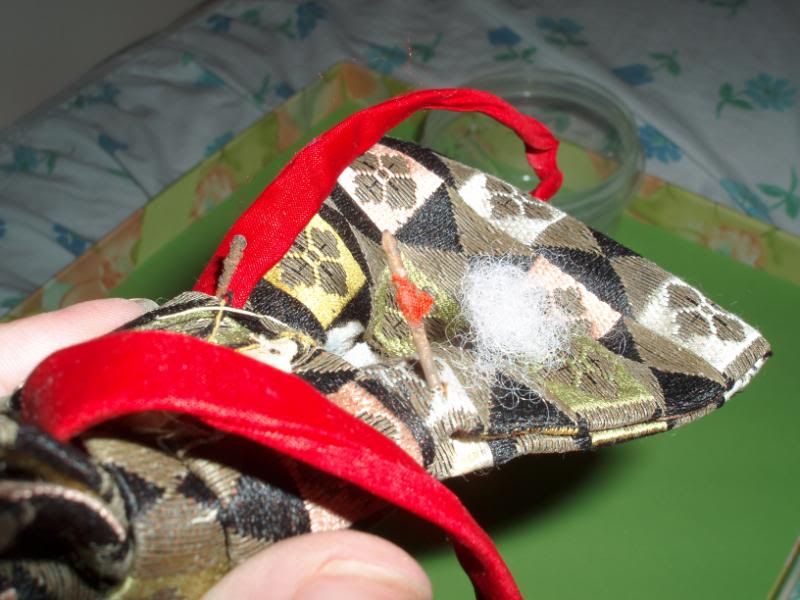 Oh, look at what we found. . . I don't know if it's an artist's card or something, I can't be sure, or if it's just a scrap to support her obi a bit better.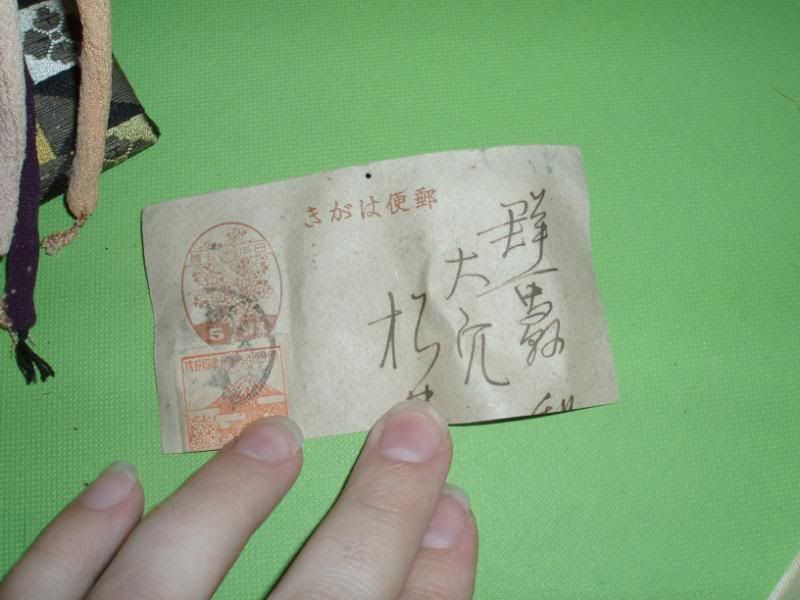 Lower part of the kimono is removed. It's actually lined, which I've never seen. Even on dolls wearing outer uchikake, they're NEVER lined. So odd!
Now for the inner skirt. It's practically a susoyoke. Never have seen that either. Repairing this bit should be pretty easy. The fabric has simply fallen apart because of the paint that was applied was not acid free.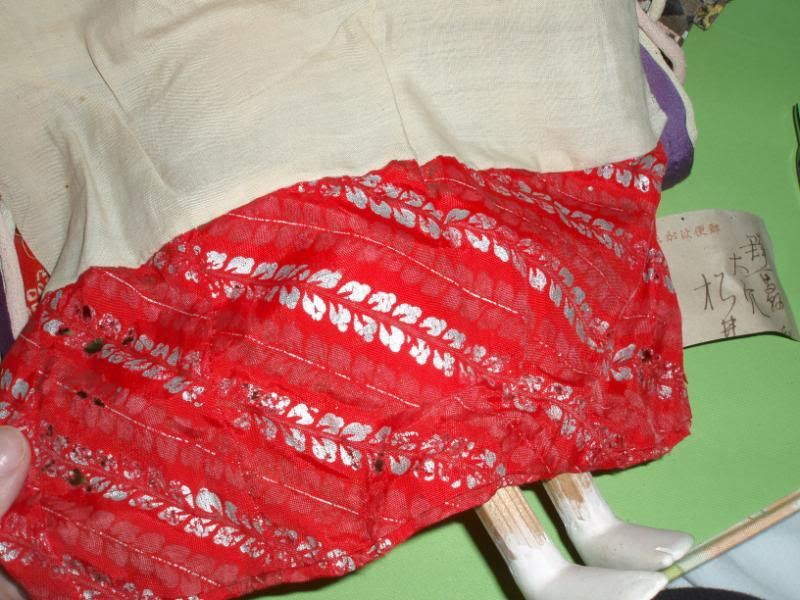 Here we are. This is why I know the doll is off a mold. Inside her head plate, where you can see it's cracked and broken on the back, the inner part is completely hollow and is nothing but gofun inside. Gofun is the consistency of paste, not like a clay. It usually needs a support material, like carved wood or a wood pulp putty to be applied to, but later on, usually towards the 1950's and on, gofun dolls were made off of molds. Nowadays, they aren't even gofun unless they're made by the very supreme doll makers. However, I did not know that molds for the heads were done in the Taisho period.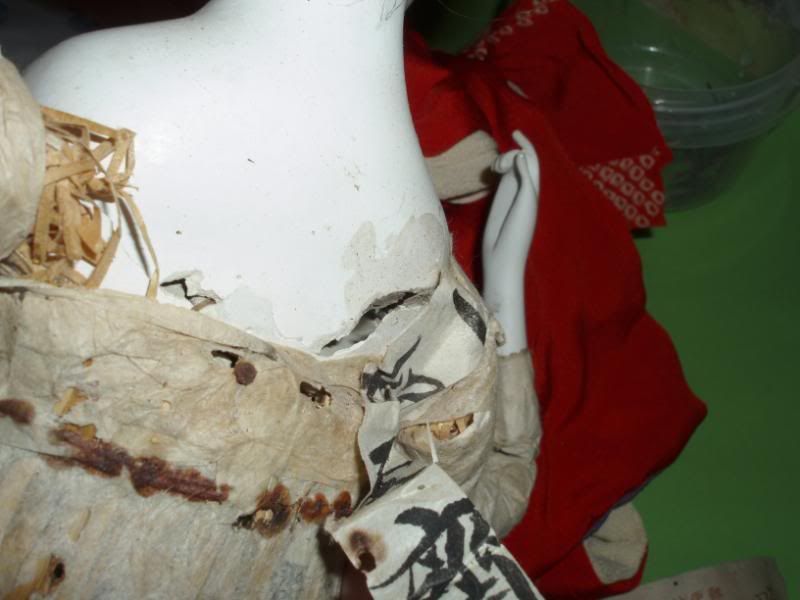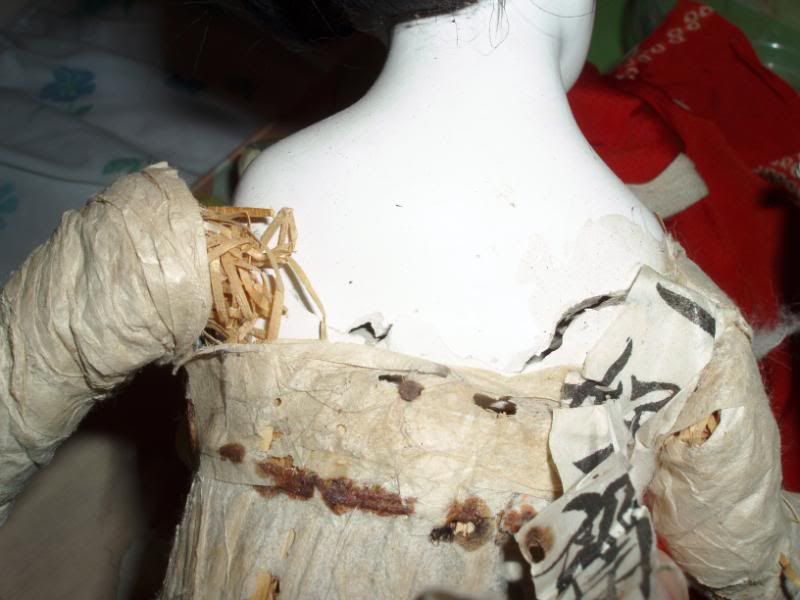 This I'll need to fix. I'll have to find some silk to paste over the old brocade that has been ate up.
Now! Beginning repairs. I picked up a package of La Doll Stone clay. I know gofun sticks to Stone clay ( the actual product is made in Japan ) but I was unsure if it would stick to gofun. I have never used this material before, and from here on out, it was a huge experiment and a huge gamble, as the doll I was working with, restored, will be worth much, much, much more than what I paid for her.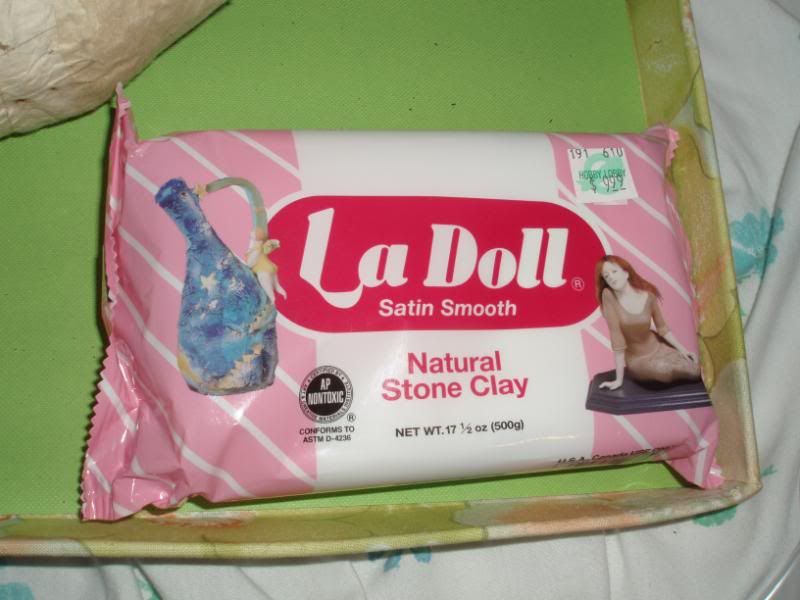 I used a very small bit. It's a big repair, but really does not involve a lot of material. I used toothpicks to shape. However, the doll clay did not want to stick. It was very, very difficult, but I do suspect that it's the best material. After carefully patting in the material, it was time to remove some of the excess material. I cannot stress how delicate I had to be with things, or I would rip up that eyelid and I would be forced to start all over. Thankfully, it never did that to me, and thankfully, after it started to dry, it started to adhere as well.
Since the material said carvable once hardened, I decided to let it do just that. I was quite pleased when the color of the stone clay came out to be nearly perfect with the doll's complection. I will not be needing to buy any gofun ( which, I've found a supplier for, so squee! It's just really expensive. ) to cover that for the time. I did not fuss with her other eyelid, as it was a little scrapped as well, but far less so. It would require a lot more skill than the full eyelid in my opinion, and it's something I'm not confident enough to do right now. I may just buy the actual gofun for that to touch up.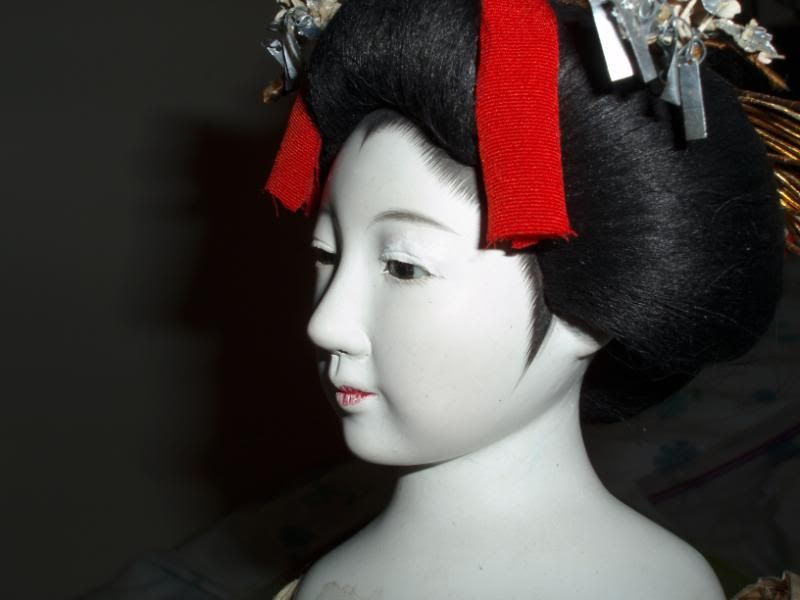 I used the end of a toothpick to carve, shape, and buff the new eyelid, making it more uniform with the original.
Now, I went to paint the underside of the eyelid in. I used acrylic paint for this, but I used a burnt umber mixed with a black for a more natural black. Then I water it down heavily. These dolls are painted with ink, so it's a thinner medium, and it's best to try to replicate this, so try to get your acrylic paint the consistency of ink and you should be good. Invest in a calligraphy brush for these fine details, it makes a huge amount of difference.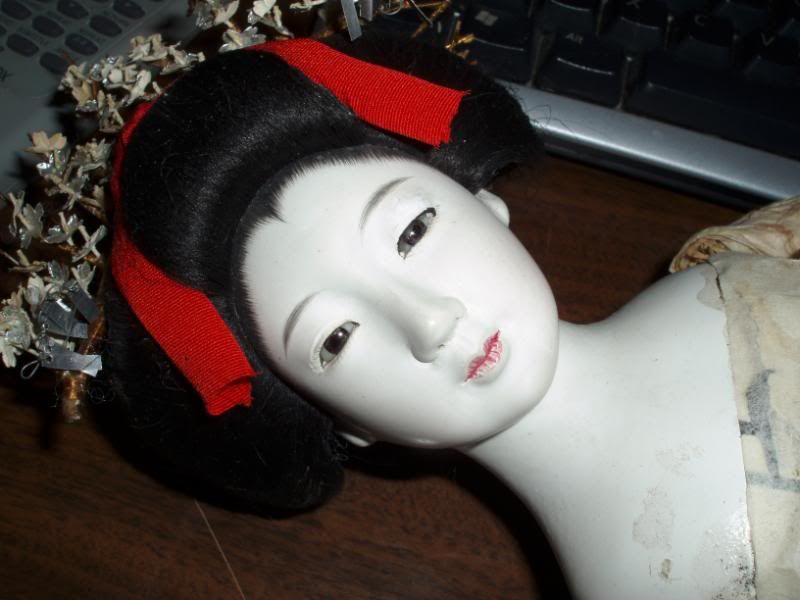 My first go, reveals that the eyelid is not quite uniform.
No big deal, get the tooth pick out, and start reshaping.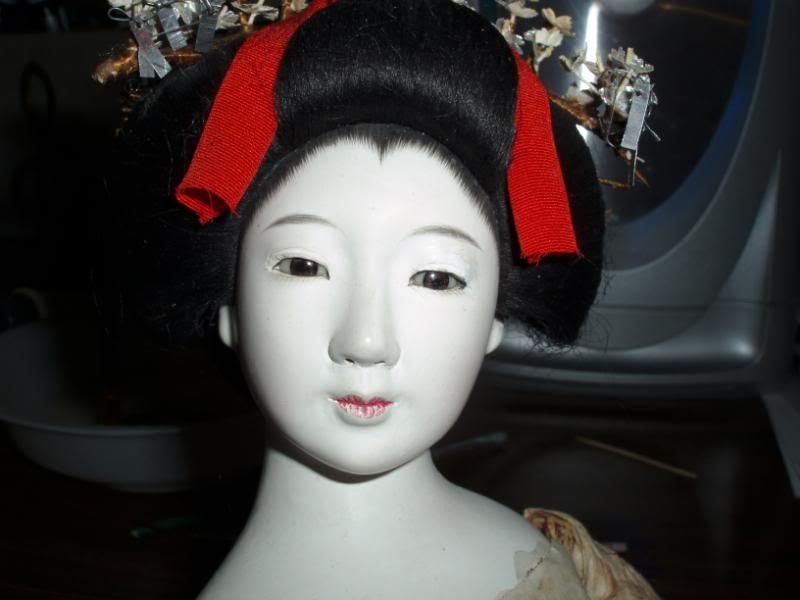 Hmm. . . Still not quite there.
Rinse and repeat.
Remember! It is better to take off too little, than too much. You can always take a little more off, but once it's off, it off permanently unless you want to start over, which could cause even further damage.
Ahhh! Finally! There we go! Not perfect and I'm not completely happy with it, but it's more than passable, and a definite improvement.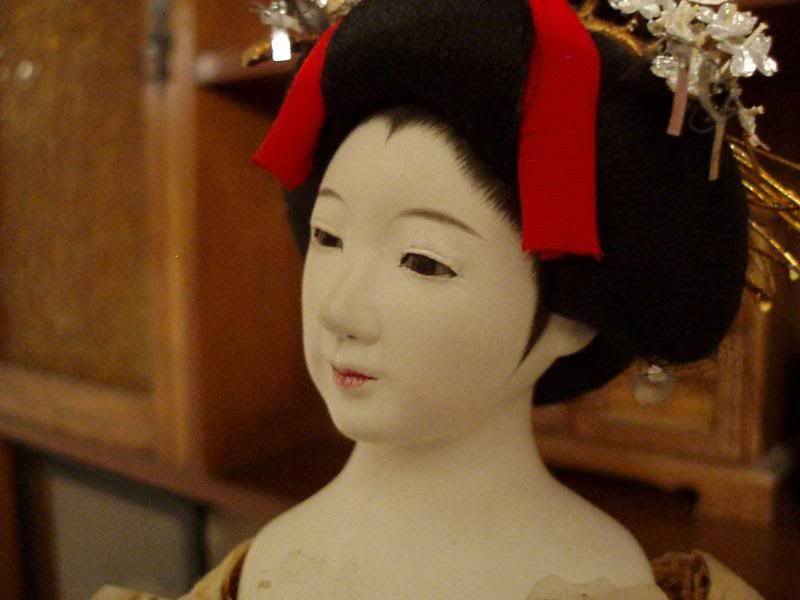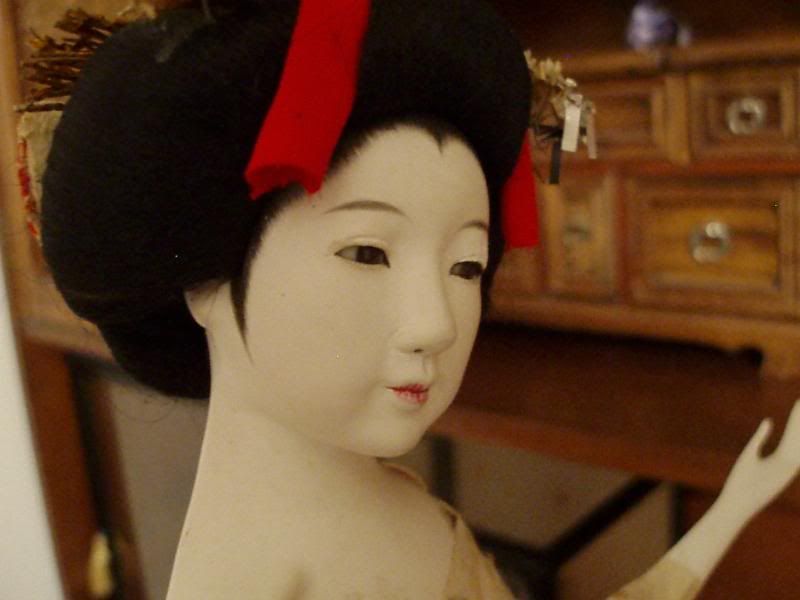 Now, to get some red silk, and I'll be onto fixing her clothes and getting her put back together.